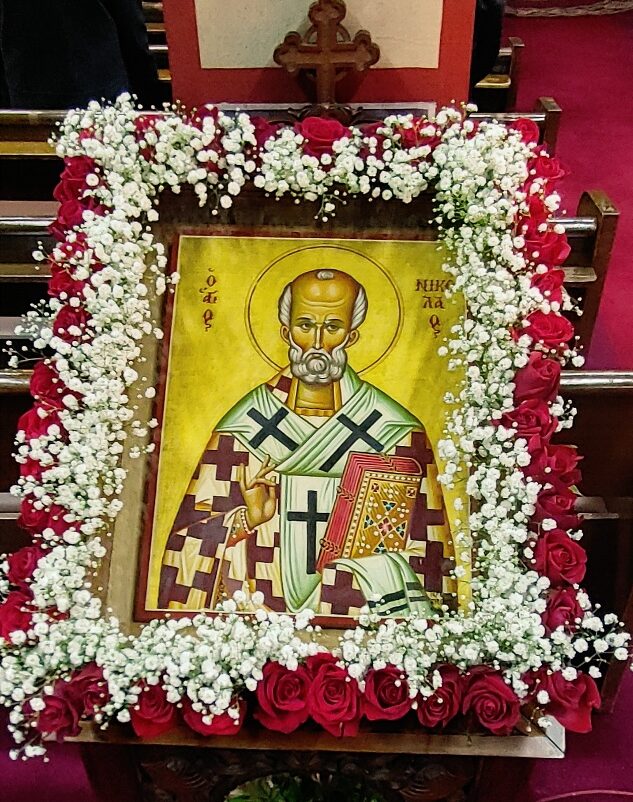 With lots of joy and spiritual cheerfulness, the feast of Saint Nicholas was celebrated again this year in His homonymous Church in Seoul.
On Sunday, December 4, before the Dismissal of the Divine Liturgy, the beginning of the festive events took place with the transfer of St. Nicholas's Icon and His holy Relics by Metropolitan Ambrosios, Fr. Roman Kavchak, Fr. Antonios Lim, and Deacon Yohan Park and were placed in the middle of the Cathedral. Every year, following the relevant prayer, the children were offered various gifts on behalf of Saint Nicholas.
After the common meal of love, the youth of the Cathedral as well as adults helped with the cleaning of the holy church and the courtyard. Some others took care of the Christmas decorations on the trees and the Halls of the building complex.
On Monday evening, December 5, the Great Vespers of the Feast Day was chanted with the Breaking of the Bread (Artoklasia) and a sermon delivered by the Metropolitan on the theme: "The Saints: The Greatest Benefactors of Humanity". This was followed by the Litany (Procession) of the Icon and the Relics of St. Nicholas outside the church. After the Litany, a Hierarchical Divine Liturgy followed, and then a celebratory dinner was offered to all participants.
On Tuesday, December 6, in the morning, the Service of Orthros (Matins) of the feast day followed by the Divine Liturgy was held. The celebration ended with the offering of a celebratory meal of love to all present.